In times of increased physical activity and tiredness
Convenient tablet box – perfect for on the go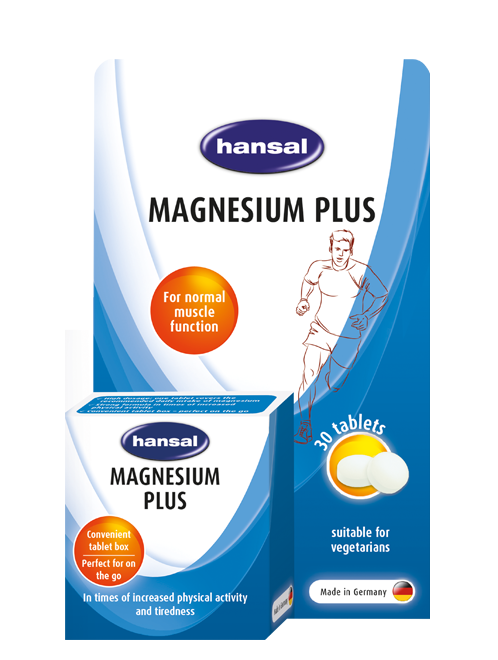 Food supplement with magnesium and 5 vitamins.
hansal Magnesium Plus Tablets are ideal to supply the body with nutrients in times of increased physical activity. Magnesium and vitamin D contribute to normal muscle function.
The included magnesium contributes to the reduction of tiredness and fatigue e.g. of the muscles. Together with vitamins B₁, B₆ and B₁₂, magnesium contributes to a normal energy-yielding metabolism and function of the nervous system. Vitamin B₁ contributes to the normal function of the heart.
The handy tablet box is particularly convenient for when you're on the go, exercising or at work.
Gluten-free and lactose-free.
1 tablet per day. Swallow with some liquid. When used in conjunction with physical activity, please take prior to exercising.
The recommended daily intake indicated should not be exceeded. Food supplements are not a substitute for a varied and balanced diet and a healthy way of living. Keep out of reach of small children.
Large amounts of magnesium may have a laxative effect in sensitive persons. Not recommended for children under 12 years.
| Ingredients | Per tablet | NRV* |
| --- | --- | --- |
| Magnesium | 400 mg | 107 % |
| Vitamin B₆ | 4.2 mg | 300 % |
| Thiamin (vitamin B₁) | 3.3 mg | 300 % |
| Folic acid | 600 µg | 300 % |
| Vitamin D₃ | 15 µg | 300 % |
| Vitamin B₁₂ | 7.5 µg | 300 % |
*NRV: Nutrient references values for the daily intake as defined by Regulation (EU) No. 1169/2011