Calcium Plus Chewable tablets
Calcium Plus Chewable tablets
With vitamin D₃ and K₂
Osteo formula for the maintenance of normal bones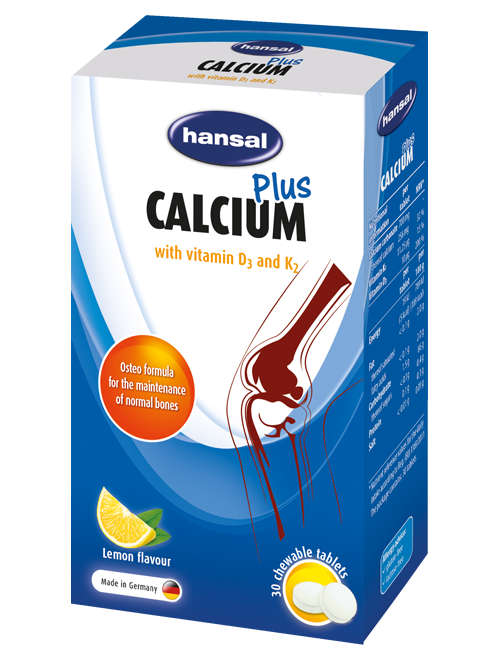 Food supplement with calcium, vitamin D₃ and K₂.
Strong, robust and healthy bones are especially important for human health and essential for activity and mobility in everyday life. Around the age of 30, bone mass and bone density reach its peak. It is therefore important that the daily nutritional requirements for bone health are met throughout life. The personal daily requirements depend on the individual lifestyle e.g. choice of meals.
Three nutrients are of crucial importance for healthy bones and thus also for bone density: calcium, as well as the vitamins D₃ and K₂. The special osteo formula of hansal Calcium Plus contains the nutrients calcium, vitamin D₃ and vitamin K₂ in carefully selected proportions. Together they contribute to the maintenance of normal bones.
Vitamin D₃ aids the normal absorption and utilisation of calcium and contributes to normal blood calcium levels. Calcium and Vitamin D are needed for normal growth and development of bone
Gluten-free and lactose-free.
Lemon flavor.
Take 1 chewable tablet per day.
The recommended daily intake indicated should not be exceeded. Food supplements are not a substitute for a varied and balanced diet and a healthy way of living. Keep out of reach of small children.
| Ingredients | Per tablet | NRV* |
| --- | --- | --- |
| Calcium carbonate | 700 mg | - |
| therof calcium | 256 mg | 32 % |
| Vitamin K₂ | 11.25 µg | 15 % |
| Vitamin D₃ | 10 µg | 200 % |
*NRV: Nutrient references values for the daily intake as defined by Regulation (EU) No. 1169/2011