Pure calcium formula
For the maintenance of normal bones and teeth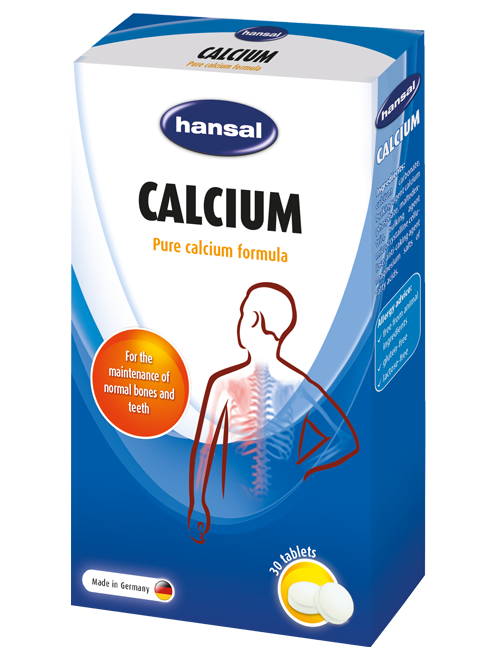 Food supplement with calcium.
Bones play many important roles in the body: providing structure, protecting organs, anchoring muscles and storing calcium. Strong, robust and healthy bones are therefore essential to stay active and mobile in everyday life. While it is important to build strong and healthy bones during childhood and adolescence, you can take steps during adulthood to protect bone health, too.
One of the most important nutrients for bone health and thus also for bone density is calcium. hansal Calcium contains calcium for the maintenance of normal bones. Calcium has a wide range of health benefits such as the contribution to normal muscle function, normal neurotransmission and a normal energy-yielding metabolism.
Gluten-free and lactose-free. Free from animal ingredients.
1 tablet per day. Swallow with some liquid.
The recommended daily intake indicated should not be exceeded. Food supplements are not a substitute for a varied and balanced diet and a healthy way of living. Keep out of reach of small children.
| Ingredients | Per tablet | NRV* |
| --- | --- | --- |
| Calcium carbonate | 600 mg | - |
| thereof calcium | 219 mg | 27 % |
*NRV: Nutrient references values for the daily intake as defined by Regulation (EU) No. 1169/2011