With zinc and 11 vitamins
Supports the maintenance of normal skin, hair and nails
Fruity peach taste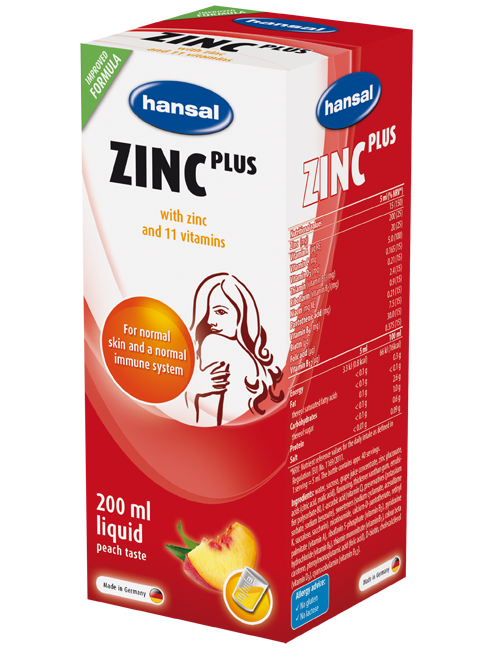 Food supplement with zinc and 11 vitamins.
Healthy skin is a sign of a healthy lifestyle. The body's ability to maintain healthy skin, hair and fingernails depends e.g. on an adequate supply of nutrients. Everyday exposure to various conditions like UV-rays of the sun and other environmental influences like smog, tobacco smoke, unbalanced diet and stress can cause the formation of so-called 'free radicals' in the skin. An excess of these reactive molecules can lead, e.g., to premature ageing.
hansal ZINCPLUS liquid contains a special nutrient complex with zinc and 11 vitamins. Zinc helps to maintain the normal function of the immune system. Furthermore zinc is an important contributor to the maintenance of normal skin, hair and nails and to the protection of cells from oxidative stress, essential to maintain beauty.
Additionally contained vitamin C contributes to the normal collagen formation for the normal function of the skin. To renew cells zinc has an important role in the process of cell division.
Without gluten or lactose.
Take 5 ml liquid per day.
The recommended daily intake indicated should not be exceeded. Food supplements are not a substitute for a varied and balanced diet and a healthy way of living. Keep out of reach of young children.
| Ingredients | 5 ml | NRV* |
| --- | --- | --- |
| Zinc | 15 mg | 150 % |
| Vitamin A | 200 µq RE | 25 % |
| Vitamin C | 20 mg | 25 % |
| Vitamin D₃ | 5.0 µg | 100 % |
| Thiamin (Vitamin B₁) | 0.165 mg | 15 % |
| Riboflavin (Vitamin B₂) | 0.21 mg | 15 % |
| Niacin | 2.4 mg NE | 15 % |
| Pantothenic acid | 0.9 mg | 15 % |
| Vitamin B₆ | 0.21 mg | 15 % |
| Biotin | 7.5 µg | 15 % |
| Folic acid | 30.0 µg | 15 % |
| Vitamin B₁₂ | 0.375 µg | 15 % |
*NRV: Nutrient references values for the daily intake as defined by Regulation (EU) No. 1169/2011
1 serving = 5 ml. The bottle contains appr. 40 servings